>>Nano-METZ
Additinal Information
Drawing
Catalog Pages
Related Products
Nano-MET Series
Nano-MET10 & Nano-MET20
Nano-HS3M
Nano-HSZ
Nano-OP Series
Nano-MZ
Accessories
SPM Accessories
Nano-Drive®
MadPLL®
SPM-M Kit®
Questions?
E-Mail Us
Features

Ultra-fast response piezo nanopositioner
Femtometer noise floor
High stability
Closed loop control
Compact size
Picometer positioning resolution





Typical Applications

High speed, high resolution positioning
Metrology
AFM
SPM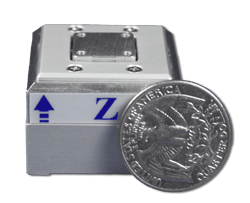 Product Description
The Nano-METZ is a compact z-axis piezo nanopositioning system designed for high speed scanning and ultra-low noise characteristics for demanding AFM and metrology applications. The innovative design of the Nano- METZ coupled with our proprietary PicoQ® sensor technology yields a resonant frequency of 14.5kHz and a noise floor of 400 femtometers/√Hz. The result: unparalled speed, response and precision for the most demanding and discerning metrology applications. Related products include the Nano-HS3M, Nano-MET2, Nano-MET3, Nano- MET10 and Nano-MET20 nanopositioning systems.


Technical Specifications

Range of motion
5 μm
Resolution

0.005 nm
Resonant Frequency
14.5 kHz
Recommended max. load (horizontal)*
0.1 kg
Recommended max. load (vertical)*
0.1 kg
Body Material
Aluminum or Titanium
Controller
Nano-Drive®
* Larger load requirements should be discussed with our engineering staff.
Position Noise Spectrum
The Nano-METZ demonstrates less than 400 femtometers/√Hz of position noise. Click below to enlarge and view the data.
Step Response Time
The step response time (rise time) of a Nano-METZ performing a 100nm step with no load is 0.25ms. Click below to enlarge and view the data.