>>Nano-PDQ Series
Additional Information
Drawing (2 Axis)
Drawing (3 Axis)
Catalog Pages
Related Products
Nano-LPQ
Nano-Z50HS
Nano-T Series
Nano-Max50
Nano-View®
Nano-View®/M Series
MicroStage Series
Manual MicroStage Series
Manual MicroStage-LT Series
Accessories
Nano-Drive®/Nano-Drive®85
Questions?
E-Mail Us
Features

High speed, direct drive
Two or three axis motion
50 μm or 75 μm ranges of motion
Large aperture
Large load capacity
Closed loop control



Typical Applications

Fast multi-axis scanning
Optical trap calibration
Particle tracking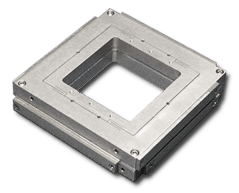 Product Description
The Nano-PDQ Series are high speed multi-axis precision nanopositioning systems. The Nano-PDQ Series offers a compact footprint with a large center aperture while still offering fast performance and a resonant frequency greater than 2kHz. The Nano-PDQ Series are ideal for applications that demand high scan rates or large load capacities. When used with the Nano-Drive®85 controller (model numbers with the HS suffix) step response times down to 2 milliseconds are achievable, nearly 10 times the speed of comparable systems! The Nano-PDQ Series features parallel, uncoupled motion in up to three axes and fully integrated position sensors utilizing proprietary PicoQ® technology to provide absolute, repeatable position measurement and picometer accuracy under closed loop control. Another system to consider: The new low profile Nano-LPQ has similar 3-axis, high speed positioning performance but is sized to be more convenient when used on inverted research microscopes.

Compatible Software Packages:

Technical Specifications

Range of motion (X)
50 μm/75 μm
Range of motion (Y)

50 μm/75 μm
Range of motion (Z)
50 μm
Resolution (50/75 μm)
0.1/0.15 nm
Resonant Frequency (X)
2.5 kHz ±20%
Resonant Frequency (Y)
1.5 kHz ±20%
Resonant Frequency (Z)
1.0 kHz ±20%
Scanning Speed
up to 400 Hz
Stiffness
3.0 N/μm
θ roll, θ pitch (typical)
≤1 μrad
θ yaw (typical)
≤3 μrad
Recommended max. load (horizontal)*
0.5 kg
Recommended max. load (vertical)*
0.2 kg
Body Material
Al, Invar or Titanium
Controller
Nano-Drive®/Nano-Drive®85
* Larger load requirements should be discussed with our engineering staff.