>>Nano-H Series
Additional Information
Drawing
Catalog Pages
Related Products
Nano-Bio Series
Nano-BioS Series
Nano-T Series
Nano-PDQ Series
Nano-Max50
Nano-SPM200
Accessories
SPM Accessories
Nano-Drive®
MadPLL®
Questions?
E-Mail Us
Features

Two axis piezo nanopositioner
Aperture for microscopy: 2" x 2"
Two axis motion
100 μm or 50 μm ranges of motion
Compact size
Economical
Closed loop control





Typical Applications

Optical microscopy
AFM
Fluorescence imaging
Optical trapping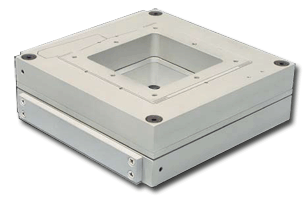 Product Description
The Nano-H Series is a compact 2-axis piezo nanopositioning stage which provides excellent positioning performance at an economical price. The large center aperture makes the Nano-H Series ideal for applications requiring transmitted beams, or the mounting of bulky components such as multiple fibers, optics, and metrology probes. Internal position sensors utilizing proprietary PicoQ® technology provide absolute, repeatable position measurement and picometer accuracy when operated with the Nano-Drive® controller. The Nano-H Series is available in and can be constructed from aluminum, invar or titanium.

Compatible Software Packages:



Technical Specifications

Range of motion (Nano-H100)
100 μm x 100 μm
Range of motion (Nano-H50)

50 μm x 50 μm
Resolution (Nano-H100)
0.2 nm
Resolution (Nano-H50)
0.1 nm
Resonant Frequency (X)
500 Hz ±20%
Resonant Frequency (Y)
250 Hz ±20%
Stiffness
1.0 N/μm
θ roll, θ pitch (typical)
≤1 μrad
θ yaw (typical)
≤3 μrad
Recommended max. load (horizontal)*
0.5 kg
Recommended max. load (vertical)*
0.2 kg
Body Material
Al, Invar or Titanium
Controller
Nano-Drive®
* Larger load requirements should be discussed with our engineering staff.