>>Nano-MTA Series
Additional Information
Drawing (single axis)
Drawing (2 axis)
Catalog Pages
Related Products
Nano-F Series
Nano-Theta
Accessories
Nano-Drive®
Questions?
E-Mail Us
Features

Up to 400 Hz high speed scans
One or two axis motion
2 mrad or 5 mrad ranges of motion
Mount in any orientation
Closed loop control
High stability





Typical Applications

High speed laser beam steering
Optical disk manufacturing
Interferometry
FBG writing
Astronomy
Active optics
Product Description
The Nano-MTA Series are single axis and two axis piezoelectric mirror tip/tilt actuators. With nanoradian resolution, the Nano-MTA Series is ideal for applications involving laser beam steering, tracking, and scanning. Internal position sensors utilizing proprietary PicoQ® technology provide absolute, repeatable position measurement under closed loop control. The Nano-MTA Series is compatible with either the Nano-Drive® or Nano-Drive®85 controllers. Both controllers include sensor electronics, proportional integral feedback control, and 150V amplifiers. When used with the high power Nano-Drive®85 controller, the Nano-MTA Series is capable of continuous, high speed scans at 400 Hz and step response times down to 2 milliseconds.


Nano-MTA2 Position Noise Spectrum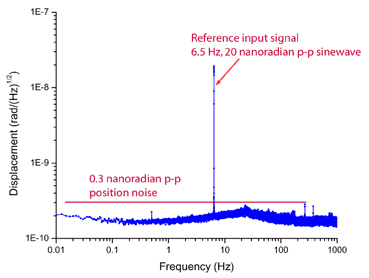 Technical Specifications

Range of motion (per axis)
2.0 mradian
Resolution

4.0 nradian
Range of motion (extended)
5.0 mradian
Resolution
10 nradian
Resonant Frequency - (loaded with a 25mm diameter x 3mm thick glass mirror)
X Axis (2mrad/5mrad)
3.2 kHz/2.8kHz ±20%
Y Axis (2mrad/5mrad)
1.25 kHz/800Hz ±20%
Scanning Speed
up to 400 Hz
Optics
25mm diameter mirror mounting area*
Body Material
Al or Invar and Titanium
Controller
Nano-Drive®/Nano-Drive®85
* Mirrors can be attached to the Nano-MTA2 using Milbond adhesive available from Edmund Optics - stock number NT53-288.